Post by Big Blue on Jun 6, 2017 13:35:55 GMT
Short half term break for the latter half of the week, meaning we missed the BA Check-in FUBAR debacle. On arriving in Alicante we headed to the Europcar counter and got handed the keys to a Citroen C3, the new funky one, for the drive to the family holiday apartment. It was orange. And of course a diesel.
What do I say about this car without sounding like a drooling Francophile? Well the build quality finishing details could be better, like this edge of the tailgate metal-edge-round-the-window feature which looked like cheap shite, along with the 0.01p hanging clip for the parcel shelf / boot cover (whatever you want to call it).
I was going to say that the view out of the rear view mirror was terrible with 2 car seats in place but that's unfair on the car seats as the view out of the rear view mirror would be piss poor without them there anyway. So that's it for the bad stuff. On to the drooling Francophile bits and firstly it looks great....
Any car W2.0 now gets in is infinitely better than the Gorilla on the basis that I don't accelerate like Ian Hutchison down Bray Hill at the TT every opportunity I get, which apparently makes the passengers all feel like the've been beaten with rubber hoses all over. In the case of the C3 I was forced to agree that this is one hell of a comfortable car. It glides over bumps and ruts, doesn't wallow on undulations and goes where you point it. I didn't get the chance to drive it on its nose / doorhandles as I was never in it alone but I imagine it acquits itself well enough without trying to be a skateboard.
Inside there's enough room if you have small kids and the boot swallowed one Samonsite suitcase, one Samsonite cabin case, one Trunki (none of these bend, so that's an important factor), one Recaro folding pushchair and one soft bag AND I could rest the parcel shelf / boot cover on top (an eternal issue I have with hire cars and holiday luggage is what to do with the cover!). There was space enough in the back for the girls and up front I was comfy enough after I'd lowered the seat and set my position right. W2.0 sits very upright so needs no leg room so elder daughter gets loads of room. The seats were comfortable and the major controls were all as they should be.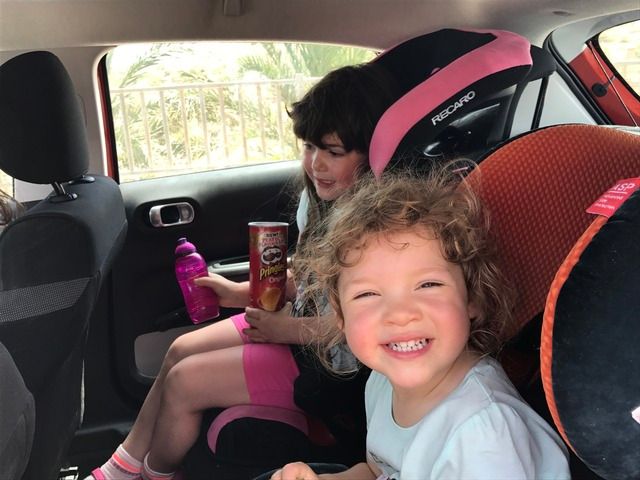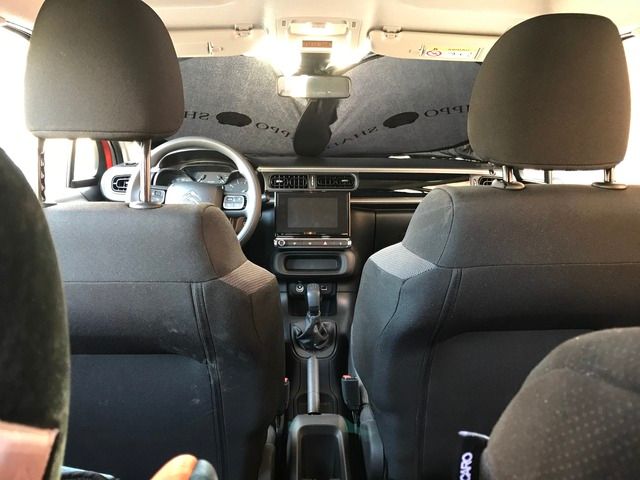 Equipment on modern cars has now reached the stage where if a Rolls-Royce driver of yore were to be blindfolded and placed in a modern family hatchback they would assume they were in some test vehicle for the latest Rolls model showcasing all the upcoming refinements. This C3 was no different, with touchscreen central control that actually worked as fast as an iPad, was intuitive enough for W2.0 to adjust the temperature with me having to bark instructions only once and was as clear as day in very bright sunlight. Super.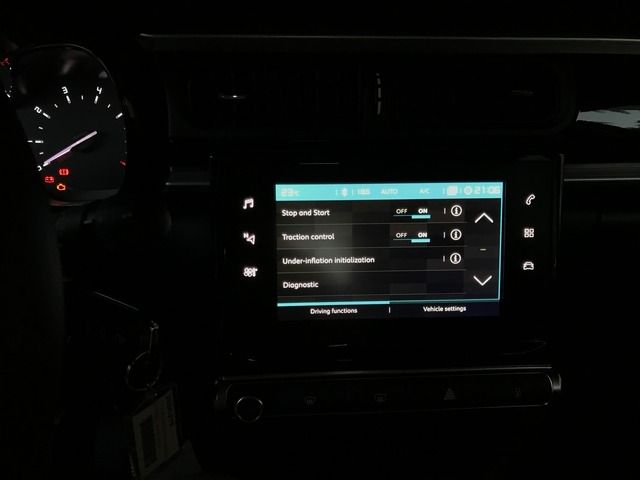 As ever it had Nav. I reckon I'd have to tempt fate and leave my portable Nav at home to be given a Europcar car without it these days as they all seem to have it anyway. It used the touchscreen and was remarkable easy to use, another benefit of the march of technology being that the dash was available in several languages.
The cruise control was on a separate module below the indicator and PSA competitor Renault should note that this additional control pod was at least a million times better made than their ubiquitous radio-operation module that has been in their parts bin since 1983. The info on the dash was all clear and simple and the steering wheel controls were easy to get the hang of (bear in mind that as with most hire cars there's no danger of sitting with the user handbook whilst the family wait for you to familiarise yourself with the minutiae of the controls available). One strange thing was the mirror control, which was hidden away behind the steering wheel to the right of where the light switch on a BMW would live (this is LHD remember, so closer to the steering column). Couldn't see it for the life of me but as with all theses things once you now it's there you know, plus you don't go around adjusting the door mirrors every ten minutes (do you???).
Some gratuitous shots of the car in Cabo De Palos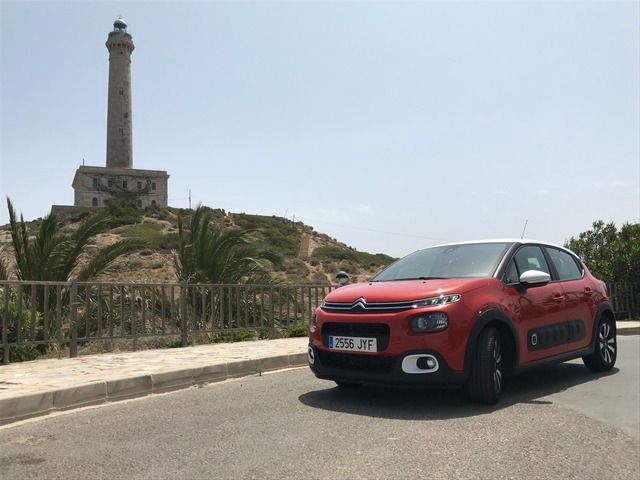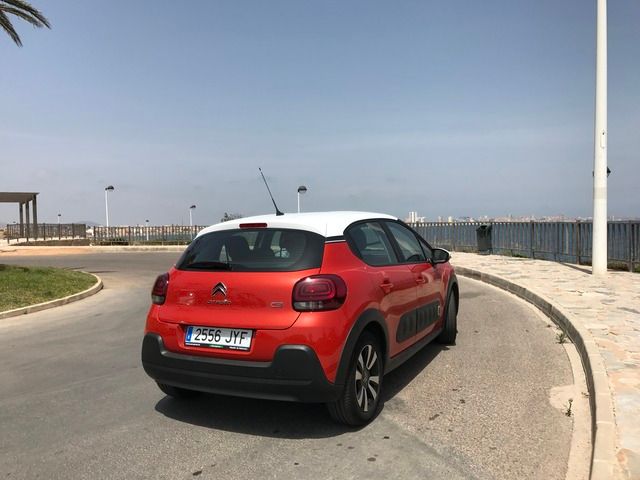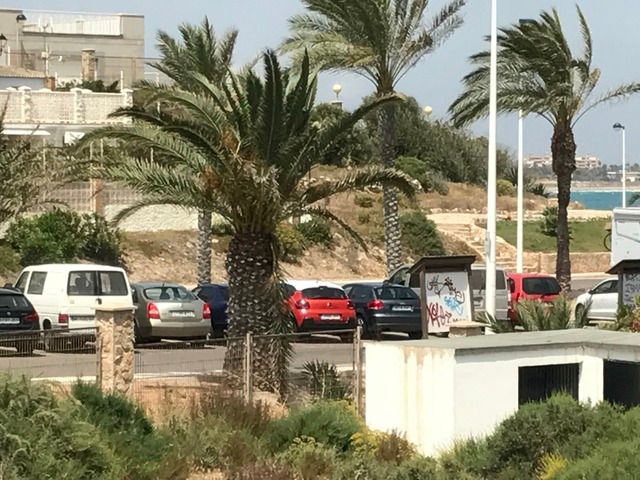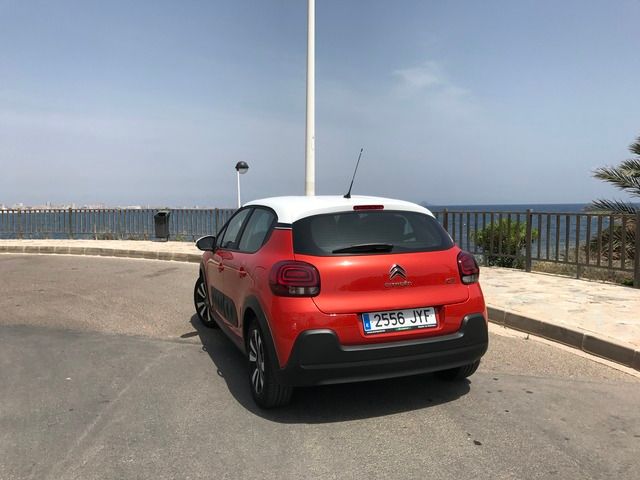 All in all then a pretty little car that steps up to the plate and delivers. As to performance, it accelerated well (subject to the usual small diesel / manual gearbox bollocksed-up gearing) and the computer said it did 5.3litros/100kilometeros which in real money is 53.29mpg. My fuel fill suggested more like 47.12mpg, both of which are startlingly good by my cars' standards and indeed are both better than the Black Whanger but a look on the magazine websites it's clear that these should be into the 60-70mpg area which is simply bollocks. I didn't rev the nuts off it, drove like a sensible person wearing their most sensible hat and did no TLGP stuff. Traffic was generally light and having collected two speeding tickets in Europe last summer (one in France one in Italy) I largely obeyed the limits. The car would never achieve those figures in normal driving conditions.
All that said if I was in the market for this kind of car this would be current top of the list and it seems at launch a couple of the magazines agreed with me (I had to look up what it was so read a couple of reviews). It feels a class above where it is positioned and I do believe they're reasonably priced in the UK, too.
Bravo Citroen on a job well done. Now, where's my baguette, onion string and striped Breton shirt?