Post by PetrolEd on Jul 21, 2021 11:48:08 GMT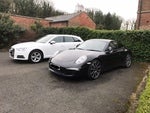 On the scale between normality and 28 Days Later?
I guess you could argue that I should err on the side of caution, accept measures etc, but I think this is where our viewpoints diverge because our lived experience differs greatly. The measures are easy for me to live with( as I suspect they are for you), but they are incredibly damaging for my kids. They are missing huge amounts of education, but the social impact is my biggest concern. My daughter has spent her first year in sixth form, mostly learning via a screen from her bedroom and has not made a single new friend. Put yourself back to that time of your life and consider how weird it is to not be out there and expanding your social network, building your social skills, etc. Do you think there will be no long term impact on her? I've got friends dealing with life threatening mental health problems with their child - it can happen when a 12 year old finds out for the fourth time in year that they aren't allowed to go out of the front door for ten days and they have no idea how long they'll be free for. Do you think there will be no long term impact on him? And we're sacrificing our kids for what exactly? So that the very old and very infirm can have an extra few months in a care home? Remember, the average age of a Covid victim is greater than average life expectancy. So i see those masks as an outward symbol of the Hell we're putting the younger generation through. As such, I refuse to comply and I'm happy when I see others refusing because the only way I see this ending now is through non-compliance.
Couldn't agree more where kids are concerned. All this talk of a potential lockdown in the autumn/winter is enough to drive me to madness let alone kids that need social interaction as a key development tool. They should be having the time of their lives rather then stuck in the box room looking at a computer screen all day.